Scottish Land Pack Features
The Bandrum Land Plot contains a wide variety of items, from a personalised certificate to an owner's guide. We offer both a deluxe land pack which includes a welcome pack that is sent in the post, and a basic land pack which is entirely digital for instant access. You can compare the different features offered with each Bandrum land pack below.
Items Sent by Post
If you would like our deluxe pack, the first step is to order your welcome pack which will be delivered by post, and will include a password for our website as outlined below. If you order the basic pack, your password will be emailed to you.
The

Deluxe

Pack
The Digital Pack
Letter of Welcome - giving details of how to visit the land and arrange an exclusive guided tour from our local Keeper.
-
The High Keepers Welcome - a presentation photograph of the High Keepers welcoming you to your land on the famous High Keeper's Message Board; AND, you can now personalise this in your own or someone else's name on our website - absolutely free.
-
A full Legal Contract that enshrines your ownership of the plot in law.
-
The Bandrum Owners' Manual - A six page fully illustrated Owner's Guide to Bandrum giving details of the land and the very many historical sites located nearby
-
A Map of the Land showing the location of the plots. You can also get a precise geographic plan and location pointer to your very own plot from our website
-
Three Photographs - 3 beautiful presentation photographs (two of the Bandrum Estate and one historical)
-
Laird of Bandrum Notepaper - Your own Laird of Bandrum notepaper (3 sheets). Each has the Bandrum Estate logo and can be multiple copied. Friends and family will just love this! You can also personalise this on your private area on our website after purchase
-
Car Bumper or Window sticker showing your ownership of land in Scotland. Lets everyone know that you have land in Scotland and that you are helping to keep our country beautiful. One of our most popular free items. (Picture of tower may vary)
-
A Certificate with a password giving you exclusive access to your own private area of the Laird of Bandrum website where you can get your plot registration number and personalise all your documents
-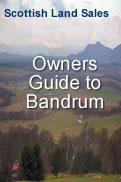 Included on the Website
Once you have your unique code, you will need to enter it on our website to be assigned a plot. You will then have the opportunity to personalise your documents and print them.
The

Deluxe

Pack
The Digital Pack
Your plot registration number
An exact plan of the Bandrum Estate showing the precise location of your plot
A legal Contract of Sale related to your plot
Download your own personalised Certificate of 'Lairdship'
Put your own name(s) on the Laird of Bandrum headed notepaper and print as many copies as you want. This is unsurpassed value!
Write a personalised dedication on the High Keeper's Board which you can either download or send directly to a friend, or just simply write your name on it and frame it
A digital version of the owner's guide
-
A digital version of the three photographs
-

£19.95




£9.95